When it comes to building or renovating your home, many people focus on the internal factors rather than external ones like the roof. After all, you don't necessarily notice this part of your home on a daily basis, right? However, roofing does matter — a lot! It protects you, your family and your belongings from rain, wind, dust, lightning, thunder and whatever else Mother Nature decides to unleash in terms of weather.
Home improvement these days is also often focussed on not just design but colour schemes as it is an essential aesthetic factor. So when it comes to choosing roof paint colours, it's important to get it right.
Finding your ideal colour palette is about choosing the colours that best fit your landscape, lifestyle and personality.
Here is our guide to the types of colours available and some examples of roof and gutter colour combinations that will give you some inspiration for an amazing home transformation!
Types of roofs
Before we get into the nitty-gritty of colour, it's worth taking a quick look at some of the best roofing options in Australia:
Steel roof
This is a popular choice in Australia, it is one of the most durable materials on the market, and steel roofing typically lasts between 20 to 50 years. It can resist high winds, extreme temperatures, water, insects, mould and rot. It's also available in a wide range of colours (see our COLORBOND roofing section below).
Terracotta roof tiles
Terracotta roof tiles are made from clay and can add a beautiful, natural look to your home. They usually come in darker colours such as greys, black, oranges and browns and offer a range of styles to match your home. They are highly durable — often lasting up to 50 years — and can handle extreme weather conditions. They are also easy to replace, and offer excellent insulation.
Concrete roof tiles
These are also one of the strongest roofing materials on the market. They can withstand wind, sun, hail and heavy rain and usually last up to 50 years. They come in a range of designs that mimic natural materials such as slate, wood and stone, and are a good insulator.
Slate roof tiles
Slate is a type of natural stone and is available in a range of sizes and colours, including red, purple, green, grey and black. When installed correctly, it can last up to 150 years! It is highly energy-efficient, preventing warm air from escaping in winter and keeping your home cooler in summer. It is also fire-resistant and one of the most environmentally friendly roofing materials because of its long life.
Tips for choosing roof paint colours
There are a number of factors that can help you determine your choice of roof paint colours. They include:
Your home's design
Many of us will focus on both colour and design first when renovating or building our homes. However, getting the combination right is both exciting and challenging. When it comes to roof colour, it should seamlessly integrate with your home's design rather than overpower it. That's why many home buyers or renovators choose muted or neutral colours for their roofing. However, that doesn't necessarily mean selecting colours that match your home's foundations either as it can tend to look a little bland. It's more about choosing complementary colours for both the foundations and the roof.
Having said that, if you are naturally drawn to bolder colours or colour combinations, or you have a more modern home, there is nothing stopping you from going all out in terms of your roof's colour palette. A striking selection of colours can perfectly complement the crisp lines of a newer home.
Exterior
Aside from the architectural style of your house, you also need to consider the colour of your home. Some tips include:
If you have a brown coloured home, consider green, black or grey roof colours.
If you have a beige to cream coloured home, consider brown, black, blue or grey roof colours.
If you have a white home, basically any roof colour will suit!
The colour of your home is not just about the main exterior. It also includes other design accents and exterior fixtures, including sidings and trims. There is also a range of Australian gutter types and colours that can affect your roofing colour. Choosing the same colour of roofing to these accents and fixtures can decrease its aesthetics, so it's worth considering a roof colour that is two to three shades darker than the colour of these. The main thing to aim for is ensuring they don't clash (unless you want them to, of course!)
Location
Your roof should suit the style of your home, but also where you live. In Queensland, our unique environment has given rise to some unique and wonderful home designs, the most notable being the iconic Queenslander. But homes are located in a range of different locales across the state, so bear this in mind when choosing the colour palette of your roof.
The easiest way to get started is to examine your property and the surrounding area. What types of colours will work best with your home's landscaping? What colours seem to fit best within the community? Once you have a general idea of which colour "families" you want to use, you can then start to narrow down specific colour palettes by examining the latest colour trends related to a particular region, from a colour wheel (more on that below), or by choosing a balance between bright and neutral colours.
For example, if your home is surrounded by bushland or greenery, you may want to choose colours that complement tones found in nature. If your home is in the suburbs, you may want to focus on colours that aren't too bold but still distinctively unique. If you live in an area filled with older homes, muted tones may work best as they won't overshadow historical architectural elements. And if you live in a coastal area rich with sunlight and surrounded by shades of blue, you might want to emulate these colours.
Sunlight
The characteristics of sunlight may vary from one region to another. For example, southern sunshine is warmer and more reddish, whereas northern sunlight has a cool, bluish shade. Therefore, the look of your roofing colour in southern cities may not be the same if you live in northern cities. Based on this principle, you may want to consider reds, browns and oranges if you live in the south and blueish to greyish shades if you live in a northern city.
Temperature
The colour of your roof affects the temperature inside your home, and the colour you choose can either decrease or increase the temperature inside your home. This is because of the way it reacts to sunlight. Changes in internal temperature can also impact your electricity bill. But how does this process work?
A roof colour either absorbs or reflects heat. Generally speaking, lighter-coloured roofs will reflect more of the sun's rays, so they will keep your home's internal temperature cooler. This can allow your home's air conditioning to operate more efficiently (keeping down electricity bills). Conversely, dark coloured roofs absorb heat and may raise the temperature inside your home. As a result, your air conditioner will have to work harder to compensate for the extra heat.
But during winter, the effect is the opposite. Since dark roofs keep the internal temperature a little higher, your air conditioning won't have to work as hard to warm rooms, so it may decrease your electricity bills.
Resale value
Believe it or not, a roof accounts for up to 40 per cent of your home's exterior appearance. The outer part of your home is the element that potential buyers will first see if you decide to sell in the future. Therefore, choosing a quality and aesthetically pleasing roof can increase the resale value of your home.
Ambience
Colour also affects how we feel. It can install relaxation and calmness, and at the other end of the spectrum, make us feel excited and inspired. And since your roof is one of the things that will first greet you when you return home, choosing the right colour will invite the right emotions.
Personal preference
We all have different tastes, so it's important to note that ultimately, the choice is yours. It is your home and the expression of who you are, so choose the roof colour that expresses your individual design choices, style and personality!
COLORBOND roofing
As mentioned, one of the most popular types of roofing in Australia is metal, and one of the best roofing brands in the market is COLORBOND steel. Their colour range has been licensed to major paint manufacturers like Dulux and have been inspired by the colours of Australia. Plus, they are not just suitable for new metal roofs. They can also be used on tin roofs, concrete tile roofs, to repaint old COLORBOND steel roofs or to research modern roof restoration COLORBOND colours.
To help you find the perfect roof paint colours for your home, COLORBOND steel's inspiring colours are presented in groups. Those relevant to roofing and gutters are Contemporary, Classic and their new Matt finish range (which has a "softer" aesthetic effect). Whether you prefer colours that are bold or subtle, dark or light, or warm or cool, you simply select the one you like from the palette on their website to find out more about the inspiration behind it. Here are some of the options available:
COLORBOND Contemporary colours
COLORBOND Classic colours
COLORBOND Matt colours
COLORBOND roofing suggestions for dark and light roofs
As we have talked about above, the temperature and cooling properties of roofs can differ and it is one of the factors to consider when choosing a roof colour. Lighter-coloured roofs are recommended for homes in locations that have warm to hot climates. COLORBOND roofing colours that are ideal for these areas include:
Dune
Evening Haze
Shale Grey
Surfmist
Classic Cream
Pale Eucalypt
Paperbark
Cove
Windspray
Homeowners living in areas with colder climates may benefit from darker-coloured roofs. COLORBOND roofing colours that are ideal for these areas include:
Basalt
Gully
Ironstone
Jasper
Mangrove
Monument
Terrain
Wallaby
Cottage Green
Deep Ocean
Manor Red
Night Sky
Woodland Grey
Matt Basalt
Matt Monument
Need help?
Apart from getting professional help with choosing the colour for your new roof, you can also refer to what is known as the colour wheel. With this tool, colours are separated by their hues. Warmer colours like reds and oranges are on one side and cooler colours like greens and blues on the other. Many people choose to stay on one side of the wheel to create cohesive palettes, while others choose contrasting palettes by choosing colours from opposite sides. You can try out Adobe's colour wheel here.
Roof and gutter colour combinations
Below are some examples of roof and gutter colour combinations, that may help you decide … once and for all!
Image from COLORBOND
Lighter-coloured roofs not only assist with keeping a home cooler in summer by controlling the internal temperature, they can also make a house look bigger. They can draw attention to contrasting edging and guttering, siding and trims and unique design accents. White and a dark brown hue has been used to great effect on the fascias and gable edges of this home. This is a COLORBOND roof and suggested roofing colours for homes of this type would include Contemporary Colours like Dune, Evening Haze, Shale Grey, Surfmist, Cove and Windspray, and Classic Colours like Classic Cream, Pale Eucalypt and Paperbark.
This is another example of one of the roof and gutter combinations that is muted yet stylish. Again, a lighter colour roof will assist with absorbing heat, keeping the home cooler and helping to keep the owner's electricity bills down. The soft curves of this roofing also provides visual interest and adds to its softness by minimising sharp corners, as does the curved guttering which is a contrasting yet subtle feature. This is a roofing profile that, when taken in from an exterior view, allows the sunny skies of this location to feature.
Image from This Old House
This home has a beautiful design combination of Hamptons and American heritage-type styling. Its palette is on the darker side, which, in terms of the roof, would provide wonderful insulation in cooler climates and maximise their energy use. Darker exteriors are also eye-catching and dramatic. The white window frames and edgings create a lovely contrast to that deep-blue slate-like exterior which adds a whimsical touch. The unique personality of this home's exterior is enhanced by the roof and gutter combination, which features copper-look guttering and the horizontal, slate-like roofing texture.
Image from Martha Stewart
This home has a somewhat traditional exterior with its pitched roof, art deco-look feature window that mirrors the style of the other delicately framed lookouts, and the roughly hewn brick feature wall. It's also a lovely combination of browns, white and yellows, particularly in the white gable edging and on the roof. Ands, speaking of the roof, what a way to add unique texture to a home! Gutters are contrasting yet crisp in colour, and the chequerboard palette of warm brown tones on the slate-style roof tiles contrast beautifully with the soft yellow exterior.
Image from Stalco Gutters
Homes with predominantly white exteriors offer an open canvas for those willing to use their imagination to add some drama and contrast with their roof and gutter colour combinations. With this home, the owners have opted for a matching combination in terms of colour, however, the moody dark green-blue hue not only adds drama, but is a highlight feature of this home's exterior. The variegated texture of the roofing adds visual appeal but its colour also allows unique features like the brick-edged arch of the garage and second-floor gable to pop.
Trending house designs for 2021 indicate that airy and bright exteriors are in vogue, as can be seen in this home's large feature window and white-edged guttering. The brickwork at the side of the house adds texture as does the horizontal lines of the garage door. However, here the roof is definitely the hero. It features a variegated roofing profile that is enhanced by the wonderfully deep blue tones of the roof itself — two to three shades darker than the home's sidings — which adds curb-side appeal. The landscaped gardens and manicured lawn complete the contemporary vibe.
Without actually seeing any details of this home's surroundings, this home's exterior would be perfectly at home (pun intended) in a beachside location. It has traditional touches with its whimsical attic window that features delicate peek-a-boo panes and an interesting geometric shape. The white but substantial gable edging adds visual interest as does the guttering, which adds a splash of metallic contrast and a somewhat minimalist and "organic" appeal, with its non-linear lines and rough-ish, non-contemporary surfaces. And now the roof. What a way to make a statement. The colour is deep, warm and vibrant and the design textured and dramatic.
Image from COLORBOND
This is another superb example of a COLORBOND roof which again takes advantage of the curbside-appeal strategy of choosing a roof colour that is two to three shades darker than the colour of the home's foundations. You could assume this home was in a cooler location as the darker roof would enhance the home's energy efficiency. The roof of this home does take centre stage, and those who are after a similar effect should take a look at COLORBOND Contemporary colour options such as Basalt, Gully, Ironstone, Jasper, Mangrove, Monument, Terrain, Wallaby; Cottage Green, Deep Ocean, Manor Red, Night Sky, Woodland Grey in their Classic Colour range and Basalt and Monument in their Matt range.
Image from COLORBOND
This is another example of a light-coloured COLORBOND roof. Perhaps a warmer-climate home, this property has an extensively neutral palette with a hint of grey/green that suits the lush landscaping and bushland setting perfectly. Roofs, gables and guttering are all in the same shade which gives the impression of a bigger home and adds a modern edge. Like to mirror this look? Check out the COLORBOND Contemporary Colours like Dune, Evening Haze, Shale Grey, Surfmist, Cove and Windspray, and Classic Colours like Classic Cream, Pale Eucalypt and Paperbark.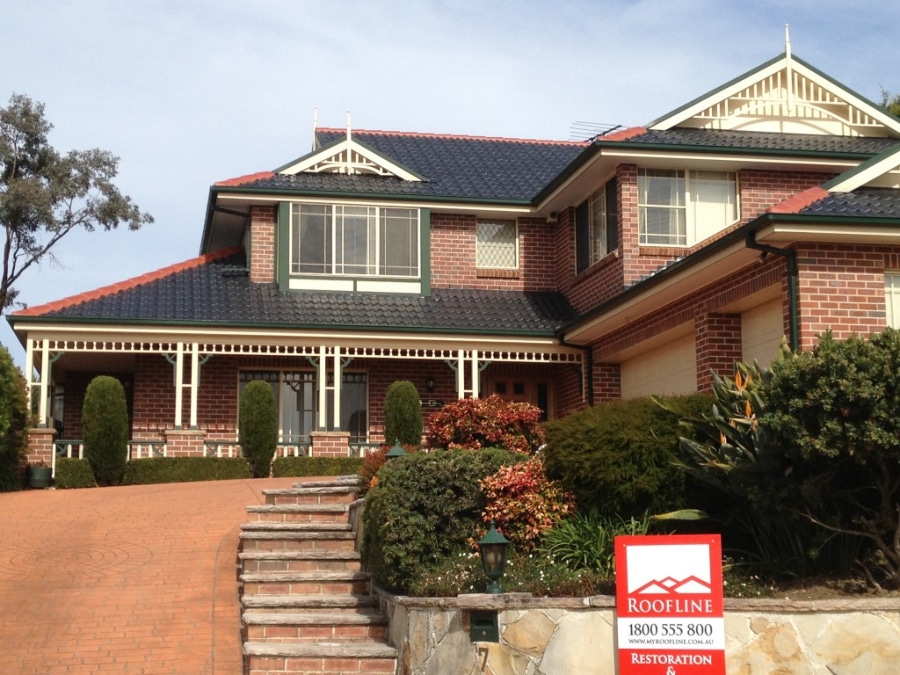 Image from Roofline
This eye-catching home is somewhat random in design in terms of its colour palette. A rustic brick base recedes into the background allowing the multi-coloured roof to take centre stage. The rust coloured roof edgings match back to the brickwork and driveway, and the predominance of black, including in the guttering, adds sophistication and drama. The texture of the roof tiles also adds visual interest, as does the cream coloured gabling design. Lovely landscaping finishes off this traditional design.
Image from His and Hers Roofing
This home hints at European influences (perhaps Tuscan?) with its towering chimney and textured exterior walls. The creamy yellow foundations of this building are a wonderful base colour for this look-at-me roof. Not only is it dramatically sloped, but the textured and rust-coloured tiles are also attention-seeking as well! There is also a clever use of roof edging with the black guttering and a splash of contrasting white to soften the whole effect.
Image from COLORBOND
The use of all white on a home is boring … said nobody ever. Particularly, when this home's owner has purposely chosen a pink door to add some quirky contrast! The palette is bright and breezy with the use of Surfmist® from the COLORBOND range (we'd hazard a guess that this home is either near the ocean or its owners wishes it was!), and the matching gutters and roofing create a seamless finish. Yes, it's simple, but not everyone is overly adventurous when it comes to colour palettes.
Image from COLORBOND
We thought we'd finish with an absolute show stopper. This home is probably way outside most homeowners' tastes and comfort zones, but wow, what a statement. A superb example of how the vibrant, bold tones of the COLORBOND roofing range can be used on your definitely-not-a standard home's design. From their Classic range, the choice of Manor Red® here is dramatic, earthy and an ideal contrast with the lush, green lawn. It also has loads of textural interest and the vertical lines of the vast surfaces draw the eye upwards making the home look much bigger than it is (although it's certainly a behemoth already!)
References