Roof decks have gained popularity the last few years, specially for those living in busy cities where space is limited. Patio roofs are the perfect way to include nature in your home. The biggest draw of roof decks is the uninterrupted views, so even if you have room for a traditional outdoor deck, you may want to investigate the deck roof options available to you. Other advantages of a roof deck are the reduced traffic noise, added insulation to your home, and extra entertaining and living space1.
While there are a few things to check before getting excited, if you are able to add a roof deck to your home, it can also increase its value. Things like structural soundness, permits, weather proofing, and choosing the right roof type need to be investigated before you start designing, but once these are done, the fun part arrives—deciding on your roof deck design!
When deciding on decking ideas, there are a few decisions to make. What will you use your deck for? A lounge and relaxation area? Garden or veggie patch? Dining and entertaining space? Maybe you want a combination, with some greenery growing all around an outdoor dining set, or a spa alongside a bar/kitchen combo. Whatever you are leaning towards, looking through the below deck designs and ideas is sure to inspire you. 
Sophisticated entertainment area
Image from: Design Trends
For those with a larger rooftop terrace, creating an elegant look might be the way to go, especially if you love entertaining! Bench seating is manufactured with different materials to suit various styles, providing a luxurious seating arrangement for tapas, charcuterie boards, or cocktails. For those in cooler climates, a central firepit is a great idea, or extra greenery to add a little more beauty2. Solar lights can add some extra brightness for those nights when you're out under the stars. Comfortable seating, adequate lighting and soft accents like cushions and throws, especially on a larger flat roof deck, is the perfect way to use every inch of space.
This type of large deck has plenty of space for an additional roof covering, providing a little respite from the Aussie sun and allowing people to enjoy it in the daytime too. This can be achieved with solid insulated panels or steel (example below).
Image from Contemporist
Adding a fire pit 
Image from: Discovery
Adding a fire pit to your roof deck design can look gorgeous, and serve many purposes. There's also regulations to consider, so be sure to check restrictions in your area for different times of year, to avoid unwanted fines and protect yourselves from harm. 
Fire pits have evolved as they have grown more popular, so there are thousands of different styles, colours, and types to choose from. Fire pits can add warmth and ambience to your space, and bring a little of the outdoors even closer to you. They can be used as cooktops or grills, to toast marshmallows, or to cook a pizza on3! They are a great way to add atmosphere to your roof deck, and keep temperature comfortable in the colder months. 
Putting in a spa 
Image from: Home Designing
Another great inspiration for your deck roof is adding a spa. These can be open air as in the example above, or covered with an insulated panelled roof to block out the daytime sun. 
They can also add an extra design element with steps leading into the spa, or a step up into a surrounding mini spa deck, as seen in the image above. Adding a spa to your roof deck can inspire a little romance, create a relaxing haven, or just be a quick and easy way to entertain the kids for an hour! 
A rooftop garden 
There's nothing better than being out in nature, so why not bring nature to you? Building a rooftop garden on your deck can be easy, and creates a gorgeous space that makes your morning coffee that much more invigorating. 
There are hundreds of ways to create a rooftop garden. Depending on the size of your space, you can add free-standing boxes, turf, pots, mini-garden beds, trees, and more. Building in a wooden deck can offset these colours, and make your roof deck design calming, peaceful, and easily maintained. You might also consider adding a translucent polycarbonate roof, which blocks out harmful UV rays while still giving you an "open air" feel.
You'll need to spend a little time researching which plants thrive in your climate. Unless you have a covered area, your plants will usually have sun for most or all of the day, and be exposed to rain and hail. If you use a lot of herbs when cooking, you can create expansive herb beds–there's nothing like home-grown ingredients to add freshness to your next barbecue! 
Cosier spaces 
Image from: Shutterstock
While some love having panoramic views, others prefer a little privacy, and this can also be achieved for your roof deck. Adding features like waterfalls, tall plants, and shrubs can offer some privacy, and even make you forget you're in a city. Long bench seats can offer comfort, particularly when piled high with cushions and blankets.
Reading a book, chatting with a friend, or celebrating an event is made easy and inviting in your cosy private roof deck. Or just sit back and watch the clouds pass by. 
Bar and bistro
Image from: Roof Deck and Garden
If you're someone who meets up with friends at a local restaurant or bar every weekend, why not bring that to your home? Incorporating a small kitchen and bar means everyone can bring what they want, you don't have to worry about driving home, and people can come and go as they please! Share plates, tapas, or barbecues are always popular, and what better way to bring people together for a football game, reunion, or just to catch up regularly? Adding a small kitchen means less trips inside, and a well-stocked bar with views over your town can't be beaten. Clever storage ideas in tables or bench seats can make set-up quick and easy, meaning you can continue being the life of the party without skipping a beat. And if you'd prefer to keep the area nice and bright but still prevent the rain from getting in, a polycarbonate alsynite roof will do the trick.
Vegetable garden 
Image from: Pinterest
If you have little space for a backyard, but want to try growing your own produce, using your roof deck is the perfect way to do so. Veggie gardens can take up the entire space, or you can add some chairs and a table and sit among the lush green of your home-grown food. Wooden boxes are ideal for this type of garden, and you can easily make your own, or grab some from your local hardware store. These roof deck designs even work for share-houses or flats, allowing a community-style garden to thrive. 
Make going up onto your roof and watering your boxes and pots part of your morning routine, coffee in hand, or unwind after a long day at the office the same way. While many vegetable and fruit plants are useful in growing food, they also look beautiful, and have a range of coloured leaves to add some variety to your deck. 
Styles for leisure 
Image from: My Move
One of the best things about designing your own deck roof is that you can style it to your preferences. If you want some greenery, but don't want the hassle of watering every day or two, plant some succulents, or hardier varieties that will thrive on only irregular rainfall. Add a swing lounge, some candles or solar lights, and you're done. A perfect space to relax and unwind after a long day or stressful week, designed purely for your leisure. 
Ideas for smaller spaces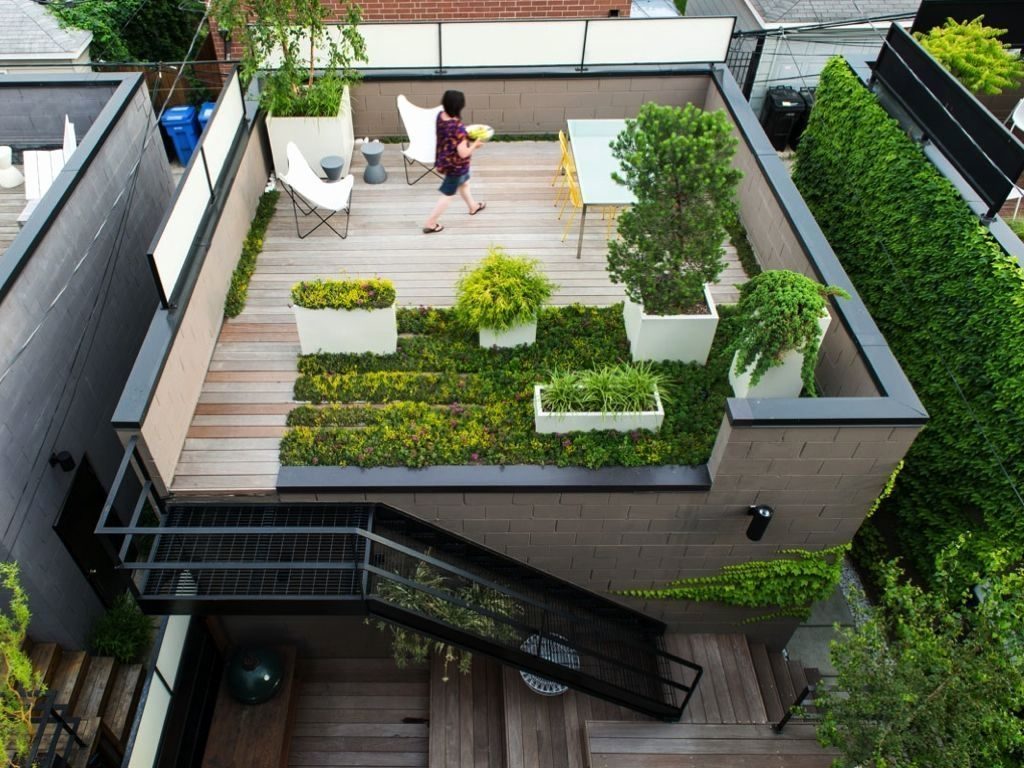 Image from: Pinterest
A lot of these roof deck designs need a large area, but if you only have limited space, you can still transform it into a beautiful little area. Adding a pot or two, a lounge chair and a table can transform your old roof into an incredible living space. Roof decks are naturally relaxing because you are out in the fresh air, offering panoramic views that you can delight in. This makes a welcome change from cramped offices, train rides, and traffic, especially if you live in the city. Watching the sunset is always magical, and costs absolutely nothing. Practice yoga or meditate, bring a glass or wine or coffee up, or just sit and take in the freedom of your own space, no matter the size of your roof! 
If you are just beginning your foray into deck designs, think about what purpose you want your area to have. Incorporate some of the above ideas to help you get started, and figure out what you want from the space before diving in head-first. If you're in the process of building, even better–you get to design it structurally, too! Remember that, while it may take a little while to get there, your finished deck will not only add value to your home, but also create a haven away from the city, in (or on) your own home! 
References
2016,

Roof Decks on Flat Roofs: Benefits and Considerations

, Roof Slope.

Tara Mastroeni, 2020,

These Stunning Rooftop Deck Designs Will Have You Wishing For One Of Your Own

,

My Move. 

2020,

Best Fire Pit for Wood Deck

,

Plasticine House.