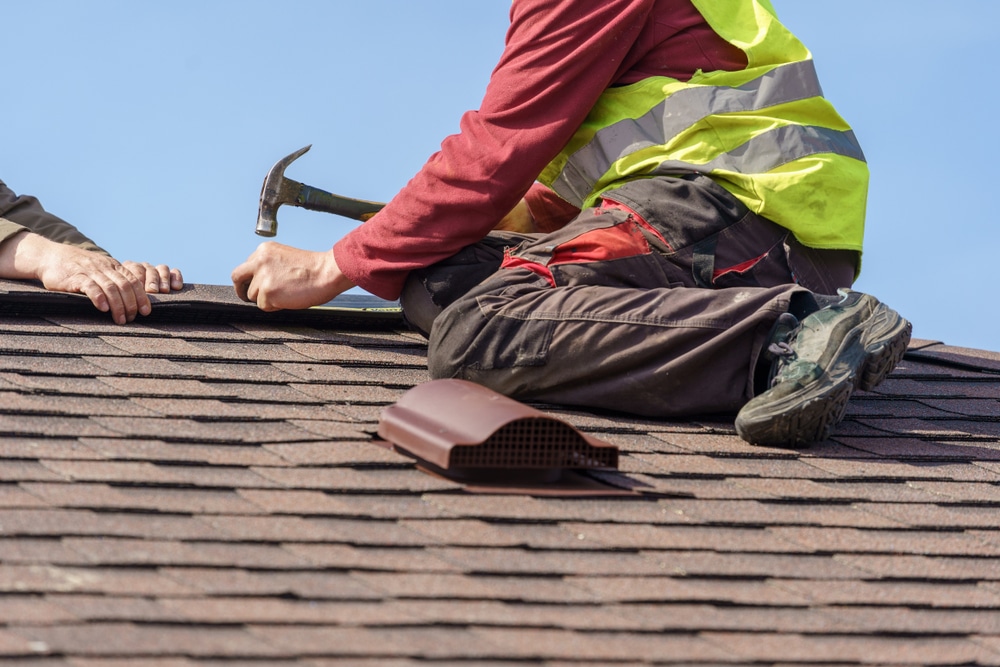 Your roof is one of the most important aspects of your home's exterior. A roof in good condition will protect your home's inhabitants from the elements, enhance the appeal and value of your home, and increase the efficiency of your air conditioner.
Roofs in poor condition can leak, attract unwelcome wildlife, develop harmful mould growth and cause significant issues when it comes to insurance claims. If your roof is looking a little worse for wear and requires more than a few simple repairs, then it is worth considering a professional roof restoration. But is roof restoration worth it?
What is a roof restoration?
Roof restoration is designed to extend the life of your roof and is a cheaper alternative to a roof replacement where the entire roof is removed and replaced with a new one.
The process usually affects the whole roof (as opposed to a roof repair where only a small section is targeted), and the exact methods depend on the type of roofing material and the nature of the damage. However, typically, the process involves:
The roof will be thoroughly cleaned with a high-pressure spray to remove all grit, dirt, moss, mould and algae.
Any damage will then be repaired, and depending on the type of roof, can include fixing cracked or broken tiles, replacing metal sheets, sealing any leaks and re-bedding and re-pointing, if needed.
The roof will then be painted with a primer (particularly with older tiled roofs), and then a final topcoat will be added.
Can I do it myself?
No. Roof restoration requires a roofing professional's expertise and specialist skills to complete the job to a high standard, and it is definitely not a DIY project!
This also refers to the cleaning, even if you have your own pressure cleaning machine. This is because deep cleaning is required to prepare a roof for restoration, and if you do it yourself, you risk flooding your home. Professional roofers know how to operate machinery at the right angle to avoid this. Additionally, domestic pressure cleaning machines operate at 1,000 to 1,500 psi, which may not be enough. On the other hand, professional machines operate at 3,000 to 3,500 psi.
Why should I consider roof restoration?
Your roof protects your home from the elements, which can be quite harsh in Queensland and include hailstorms, cyclones, intense sun and torrential rain. You should consider a roof restoration if:
The roof is leaking (mould and dark spots on your ceilings are a sign this is occurring)
Down-pipes and gutters aren't in good condition
You notice cracked, broken tiles or porous tiles
Plaster is starting to look exposed
Paint is faded or deteriorated
The roof is sagging, or there is deterioration on the roof valleys
Bedding, pointing or flashing is damaged or cracked
You notice corrosion (rust) around fittings or rot, mould, moisture or mildew
There is moss growing in the gutters or on the roof
You notice other damage or degradation that needs repairing
You're not happy with the cosmetic appearance of your roof.
What are the benefits of roof restoration?
There is a number of benefits to having an experienced roofing expert undertake a roof restoration, including:
Boosting the value of your home
If you decide to sell your home, the exterior offers the first impression to potential buyers, so investing in your roof's upkeep will enhance its value by increasing its aesthetics. It will also ensure your property passes any required building and pest inspections.
Offering peace of mind
Storm season is a regular occurrence in Queensland, and wild weather can cause untold damage to a roof, even if there are no visible leaks or signs of water damage. A roof restoration will ensure any damage is detected and repaired before it gets worse.
Saving energy and money
If your roof has holes or cracks that allow cool and warm air to escape, your home's insulation is not being maximised, and your electricity bills may increase.
Protecting it against unwanted pests
Rats, snakes and possums love taking advantage of damaged roofs, where they can build nests and cause damage in the process. Safely capturing and removing wildlife from your roof can also be a costly exercise, so ensuring it is secure and in good shape will save you money in the long run as well.
Increasing your roof's lifespan
An experienced roofing expert will be able to find any weaknesses, such as any leaks or cracked tiles in your roof and work to fix them before any significant damage occurs. It will alleviate the need for a full roof replacement in the future, which can be expensive. Clearing overflowing gutters as part of the process will also minimise fire risks.
Ensuring insurance coverage
Depending on the type and level of your home insurance, you will have certain responsibilities as a homeowner. Insurance companies can reject insurance claims if your roof has not been adequately maintained, including covering issues related to blocked gutters, rusted roofing or gutters or blocked flashings.
How long does it take to complete a roof restoration?
The time frame for a roof restoration will vary based on the weather conditions at the time, what repairs are needed and the size of your roof. However, typically, roofing contractors will take three to ten working days to complete a roof restoration.
How long can I expect my roof restoration to last?
Roof restorations last for approximately 15 years. Additionally, paint manufacturers will give a warranty for the paint used, which is usually ten plus years.
How much does roof restoration cost?
The cost of roof restoration depends on a variety of factors (mentioned below). However, a full roof restoration for an average-sized Australian house will start from around $2,500. Roofing companies typically charge by the square metre, with the price per square metre decreasing for larger areas in some instances. For example, restoration for smaller roofs generally costs $28 to $38 per square metre, medium-sized roofs come in at about $22 to $28 per square metre, and larger roofs cost between $17 and $22 per square metre.
Resealing the roof is sometimes optional, but it does provide additional protection and is highly recommended to extend your roof's longevity. Sealing can be done by applying roof paint or a special roof coating. The costs can be set per square metre or per hour, although some companies might have a fixed price for this.
What factors affect the cost?
The size of the roof
This is the most obvious factor. It's worth considering having your entire roof expected even if you think only minor repairs are required, as roofing experts can detect problems that you may not be able to see. It will save you time and money in the long run!
The product quality
Choosing a reputable roofing company will ensure they work with high-quality materials. These generally come with a product warranty, for example, a quality roof sealant will often last ten years. They will also offer a warranty on workmanship, typically ten years. Additional benefits of quality products can include thermal insulation, rust resistance and better coverage and adhesion.
The extent of the restoration
While a straightforward restoration usually includes cleaning and reciting or repainting your roof, there are often several repairs or replacements that need to be done as part of the project. For example, roof valleys may need to be replaced, and in older homes, roof trusses may have sagged, and eaves may require replacement. Keep in mind that some issues may be detected after the project has started, particularly after the roof has been pressure cleaned.
Pitch and accessibility
Steeper, higher and more complex roofs are harder to work on and will cost more to restore. Guard rails will generally also need to be installed if the roof is over a certain height which will add to the cost, as will any additional safety equipment.
The type of roof
Terracotta roofs
These are beautiful and long-lasting, however, they can be expensive to restore. Restoration generally includes addressing:
Cracked or broken tiles
Mould building over the tiles
Glazing is becoming worn or has started to peel
Leaks are evident
Many terracotta roofs also need to be completely resealed during the restoration process, particularly if the old coating is flaking, peeling, or the tiles have started to look porous.
Concrete roofs
Concrete roofs are durable and practical and compared to terracotta, concrete tiles are generally less expensive to maintain and restore. Restoration generally includes addressing:
Cracked or broken tiles
The build-up of mould, dirt and algae
The sealant as concrete also tends to get porous
Metal and Colorbond roofs
Because of their energy efficiency and relatively simple maintenance, metal roofs are becoming more and more popular throughout Australia. They are an ideal choice when it comes to maintenance as well. However, the restoration process is different to a tiled roof and includes:
Replacing rusted screws, nails and washers
Removing any traces of corrosion or rust to minimise further oxidation and damage to the metal sheets
Patching spots or replacing whole metal sheets
Applying a roofing sealant to the metal sheets, which could include a rust-proofing primer for better adhesion and two coats of a roofing membrane. The type of membrane will depend on the type of metal on the roof.
References